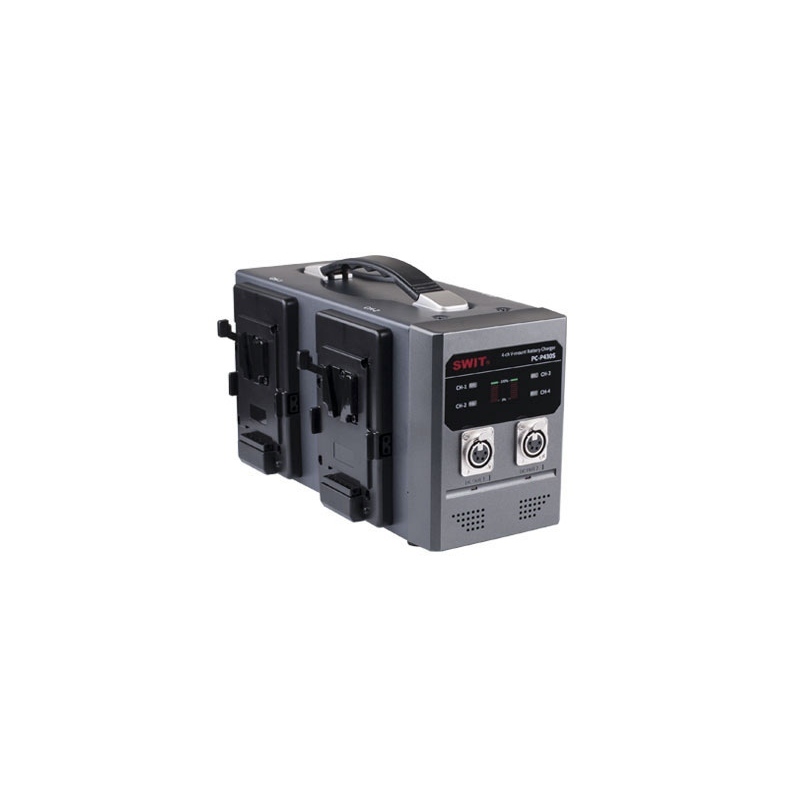  
Swit PC-P430S 4-ch V-mount Charger
- 3A per channel quick charging
- 4-ch simultaneous charging
- 2x 4-pin XLR DC output
- LED charging indicators
4-ch Simultaneous Quick Charger
For V-mount batteries
PC-P430S can charge 4pcs V-mount camera batteries simultaneously. The charging output is DC16.8V, 3A each channel.
LED Charging Indicators 
for Each Channel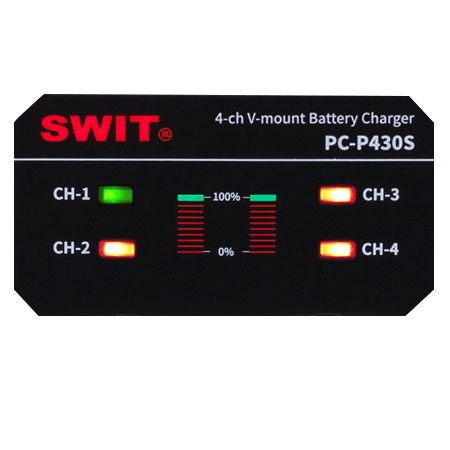 The PC-P430S has LED charging indicators on the front panel,
indicates the real time capacity of each channel by different colors:
Display Red: Battery is charging, capacity below 80%;
Display Yellow: Battery is charging, capacity above 80%;
Display Green: Charging finished.. 
AC-DC Adapting Output
PC-P430S has 2x 4-pin XLR female connector on the front panel. Connected with SWIT S-7102 XLR female to male cable (optional purchase), the PC-P430S can be used as AC-DC adaptor of 2-ch DC 15V, 6A, 90W simultaneous output.
Please note the AC-DC adapting output will not work when battery is charging.
Optimal Charging Curve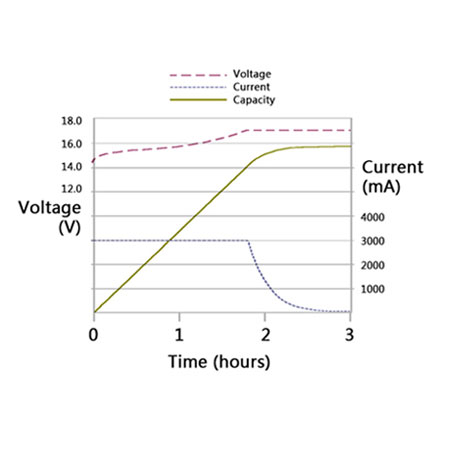 Li-ion charging follows a two-period approach. The first period is constant-current. The battery is charged at the maximum charging rate. When the battery reaches a specified set-point voltage, charging circuits switch to the second period: the constant-voltage period. The charging circuit will provide only enough current to maintain the voltage, to prevent the battery from over charging.
Multiple Safety Protection Design
SWIT charger can identify different chemical types of batteries, and provide the correct charging program, to protect the batteries from over current, over charging, high temperature, etc.
| | |
| --- | --- |
| Power | Max 276W |
| Input | AC100V-240V 50/60Hz  |
| Output | DC 16.8V, 3A×4 |
| Applicable battery | V-mount battery |
| Dimension | 285×144×173mm |
| Weight | 3.27kg |