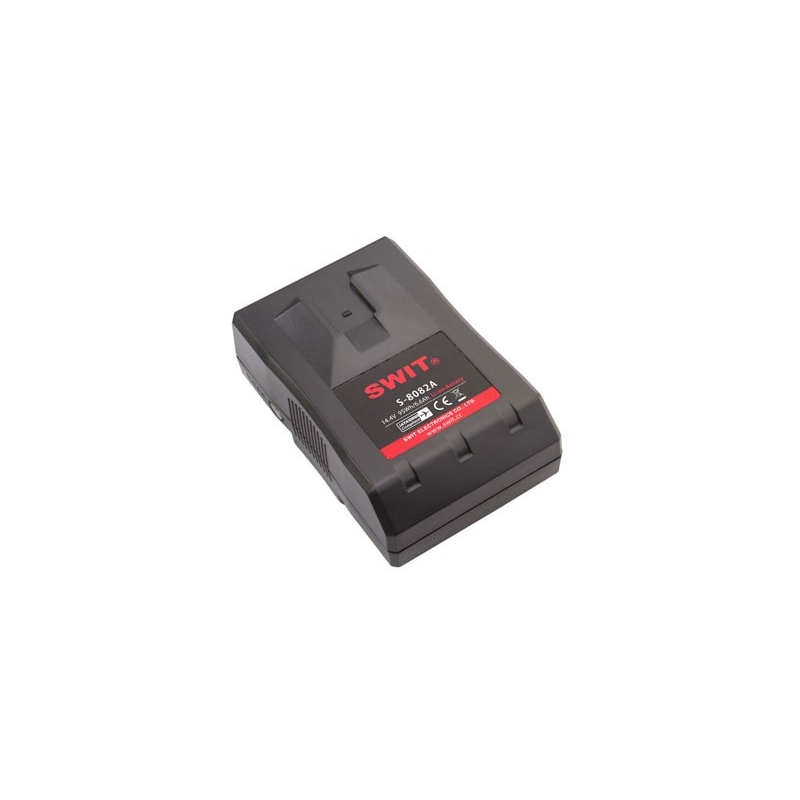  
Swit S-8082A 95Wh Gold Mount Battery
- Li-ion, 14.4V 95Wh capacity
- Not restricted by IATA
- D-tap output socket
- 4-level LED power indicator
- Gold Mount connection
- Multiple circuit protections
Gold Mount Camera Battery
S-8082A is the Anton Bauer type Gold Mount rechargeable Li-ion battery pack for professional video cameras. It's compact design, smaller in size than S-8080A.
95Wh / 6.6Ah Capacity
Consists of 12pcs 18650 battery cells, and reaches 95Wh/6.6Ah high capacity. Run approx 3 hours for normal 30W ENG cameras,and not restricted by IATA air transportation regulations.
Anton Bauer Gold Mount Connection
S-8082A is compatible with AntonBauer Gold mount type power system and we adopt the high quality connection bolts that ensure the reliable mounting. 
Build-in D-tap DC Output Socket
A D-tap DC output socket is equipped on the top side of S-8082S battery, for DC14.4V (Nominate) connection, such as on-camera lights, monitors, wireless transmitter, etc. The Max Power from D-tap is 70W, 6A.
4-level LED Power Indicator
On the side of the battery, there're 4-level LED power indicators to check the battery remaining capacity. You can get a quick view of capacity before using.
Adopted high quality Lithium cells
Over more than 15 years, SWIT has been leading brand of broadcast camera batteries. The first reason is the high quality Lithium cells we adopted. The high quality cells featured long life, durable, safety, and most of all, the cells has very little difference to each other, which ensures the high performance of the whole battery pack. Moreover, the cells we're using, have a smooth discharging curve by voltage, so that you can judge the remaining running time accordingly. Also when in storage, the self-discharging rates are very little, that extends the battery life effectively.
Strong and Durable Housing
Adopt the thicker and wider nickel slice to solder the cells, minimize the voltage drop, dissipate heating, and enhance the assembly intensity. The cells are arranged as triangular structure in the battery pack, stable and anti-shock. The cell holder inside can protect the cells pack, and separate the circuit board from the cells, to keep the boards away from internal pressure and ensure a stable working.
Multiple Safety Protection Design
The battery has an MCU to measure and record the real time data, and will cut off power when over-voltage, under-voltage, over -current, high-temperature of low-temperature is detected. Meanwhile, the battery housing adopts high-impact ABS material, with waist design and non-slip tread for secure handling. 
Cell balance adjustment
After the batteries are used for a period of time, the cells voltage might get difference, and our specially designed circuit can optimize the imbalanced cells, to prolong the battery life.
| | |
| --- | --- |
| Nominal Voltage | 14.4V |
| Capacity | 95Wh/6.6Ah |
| Max output power | 70W |
| Max output current | 6A |
| Mount Type | Gold Mount |
| Operation Temperature | 0-40°C |
| Net weight | 710g |
| Dimensions | 134×88×52mm |
Data sheet
Capacity:

95Wh

Max output power/current:

70W / 6A