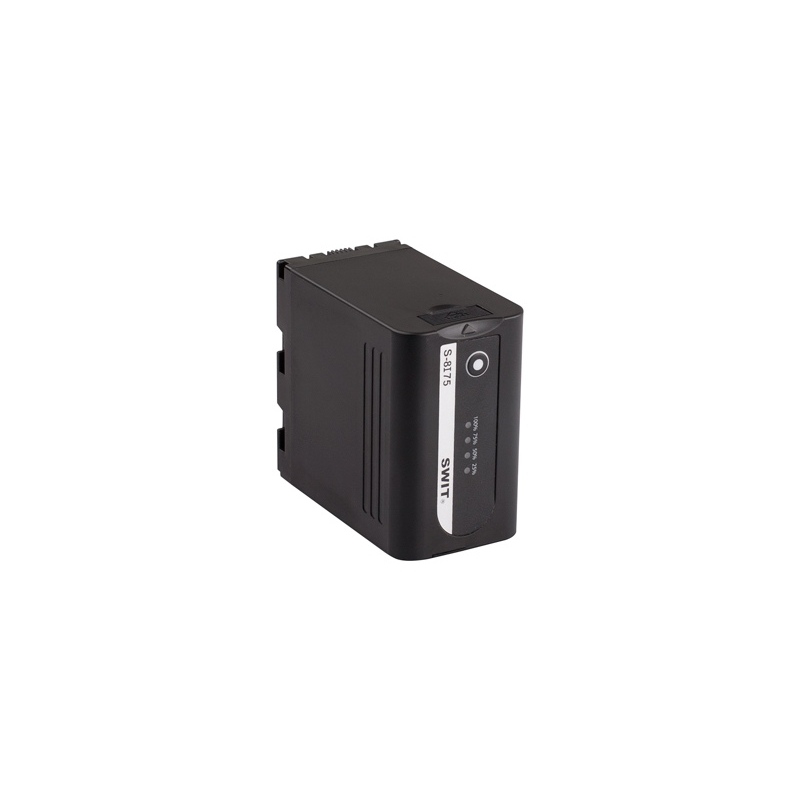  
Swit S-8I75 JVC HM600 Battery 60Wh
- 7.2V Li-ion battery pack
- For JVC HM600/650, LS300
- Display remaining power info on camera viewfinder
- 60Wh / 8.3Ah larger capacity
- 4-level LED power indicator
- 7.2V Pole-tap DC output
- 5V/1A USB charging output
- Multiple circuit protections
JVC HM600/650/LS300 Compatible
Similar battery as SSL-JVC75
Display remaining power info
S-8i75 is the replacement battery for SSL-JVC75, compatible with JVC Camcorder HM600/650, LS300 and HMQ10. S-8i75 can exchange digital info with the JVC cameras, and display remaining power info on the camera viewfinder.
60Wh / 8.3Ah High Capacity
With 7.2V nominal voltage, the S-8i75 has 60Wh / 8.3Ah capacity, higher than the SSL-JVC75, and can run approx 6 hours on JVC GY-
HM650 camcorder when LCD monitor is on.
Build-in Pole-tap DC Output Socket
A 5.5/2.1mm pole-tap DC output socket is equipped on the side of S-8i75 battery, for DC 7.2V (Nominate) connection. You can connect on-camera LED light, monitor or wireless transmitter on the pole-tap socket, and get power simultaneously with camera.
The Max power from the pole-tap is 30W, 4A.
The Pole-tap socket can also be used as charging input, by SWIT portable charger S-3010D.
Build-in 5V/1A USB Socket
Use S-8i75 as Power Station to your cell phone! It's rather a fantastic function to have a USB socket on the DV battery! Connect your smart phone or pad to the USB socket, press the "Check" button, and then the S-8i75 starts to output 5V/1A power to charge your devices!
4-level LED Power Indicator
The S-8i75 battery has the 4-level LED power indicators to check the battery remaining capacity. You can get a quick view of capacity before using. The "Check" button can also be used to trigger USB charging.
Easy Charging
The S-8i75 can be charged on SWIT Dual channel charger S-3602i. It takes about 5 hours and 50 minutes to charge from empty to 100%. And you can also use SWIT S-3010D Portable Pole-tap Charger for S-8i75. It will take 9 hours to fully charge.
Adopted high quality Lithium cells
Over more than 20 years, SWIT has been leading brand of broadcast camera batteries. The first reason is the high quality Lithium cells we adopted. 
The high quality cells featured long life, durable, safety, and most of all, the cells has very little difference to each other, which ensures the high performance of the whole battery pack.
Moreover, the cells we're using, have a smooth discharging curve by voltage, so that you can judge the remaining running time accordingly. Also when in storage, the self-discharging rates are very little, that extends the battery life effectively.
Strong and Durable Housing
The S-8i50 housing is made of high-impact ABS material, and the advanced plastic welding technical ensures the strong and durable structure.
Multiple Safety Protection Design
The battery has an MCU to measure and record the real time data, and will cut off power when over-voltage, under-voltage, over-current, high-temperature of low-temperature is detected.
Meanwhile, the battery housing adopts high-impact ABS material, with waist design and non-slip tread for secure handling.
Cell balance adjustment
After the batteries are used for a period of time, the cells voltage might get difference, and our specially designed circuit can optimize the imbalanced cells, to prolong the battery life.
Nominal Voltage

7.2V

Capacity

60Wh, 8.3Ah

Max output power
Total

40W, 5.5A

Pins

25W, 3.5A

Pole-tap

30W, 4A

USB

5W, (5V,1A)

Applicable camera

JVC GY-HM600/650, LS300, HMQ10

Net weight

Approx 339g

Dimensions

76×70×43mm
Data sheet
Compatible with:

JVC SSL-JVC50